2017 Lenten Season
2017 Lenten Season
March 2, 2017

Kelly Lavery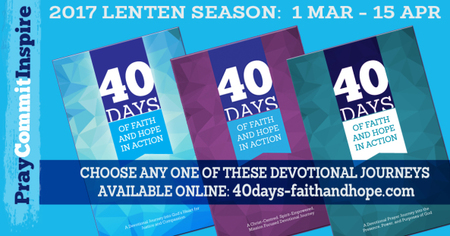 March 1 - April 15, 2017
Consider taking one of these three devotional journeys during the 40 days of lent,and let those 40 days inspire and mobilize the church together as we put faith and hope in action.
On-line devotionals available 40days-faithandhope.com, you will recieve daily email reminders throught out the season of lent.
We encourage all who participate to intentionally commit to prayerfully listen to God's Word and invite the Holy Spirit to guide you as you examine your daily decisions in light of Christ and his purposes.
We also invite you to fast or give up something either for the entire period, or for various times throughout. It doesn't have to be food-related; it could be a favorite pastime, a luxury item, etc. We pray that God will draw us into a deeper commitment to living his mission as we unclutter our lives and fill them with his purpose. Going without, while counter-cultural, creates space to increase our desire for God, deepens our appreciation for what we have and increases our response to the needs of people.